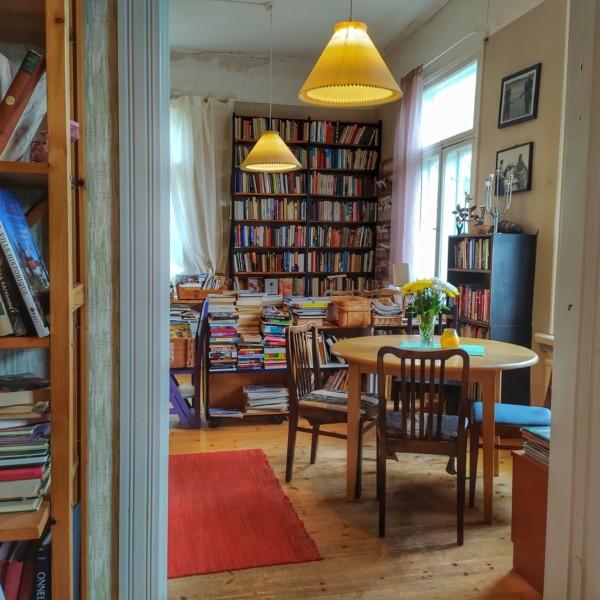 As I'm writing this article, I'm working remote in Hanko since the office is closed due to corona. When I get back to the city, my friends will move in here to work remote. Last winter one of my friends with a Hanko home, had a writer living at their place, finishing a book. In a Facebook group, called Naisyrittäjät in Finnish (freely translated to Women entrepreneurs) there is always people looking for nice places where you can work remote. Working remote is not just a corona trend, but an enduring way of working for many. I think Hanko will attract even more remote workers and that the corona pandemic will teach us and allow us to do more remote work in the future.
Kirjoittaessani tätä artikkelia etäilen Hangossa toimistomme ollessa suljettuna koronan vuoksi. Kun palaan kaupunkiin, vaihdan asuntoni asukkaiksi Hankoon etäilemään tulevat ystäväni. Viime talvena erään ystäväni Hangon kotia asutti useita viikkoja kirjaansa viimeistelevä kirjailija. Facebookin Naisyrittäjät ryhmässä kysellään jatkuvasti mukavien etätyöpaikkojen perään. Etäily ei siis ole vain koronatrendi, vaan pysyvä työtapa monille. Uskon Hangon vetoavan entistä enemmän etäilijöihin ja korona-aikakausi opettaa ja sallii varmasti etätyön laajemmin myös jatkossa. 
Itselleni syitä tehdä töitä etänä on useita. Tärkeimpänä etätyöpisteen tarjoama rauha ja mahdollisuus keskittyä olennaiseen. Pystyn oman elämäni hyvin joustavasti suunnittelemaan ja palaverit hoituvat suureksi osaksi videopuheluiden avulla. Parasta on kuitenkin Hangossa herääminen. Ajan talvella vaikka yömyöhään torstai-iltana Hankoon, jotta voin herätä meren äärellä perjantaina. Näin nostan myös Hangon kotini käyttöastetta ja investointi Hankoon tuntuu järkevältä myös taloudellisesti. Olen myös rakentanut kotiini huomattavasti ergonomisemman työpisteen kuin Helsingissä. 
Iltapäivisin siirryn yleensä kahvilaan. Parhaita paikkoja työskentelyyn ovat mielestäni Cafferie ja Alan's Café. Kesällä paras ulkoilma wi-fi löytyy yllättäen Hangon tenniskentiltä! Vinkkinä Hangon kahvilayrittäjille, että etsimme muiden etäilevien kanssa jatkuvasti Hangon parasta nettiä, kun kännykän verkko ruuhkautuu usein kesällä. 
Toivon työelämän vapautuvan etätyön osalta entistä enemmän ja että yritykset ottavat vaikeista ajoista opiksi ja alkavat tarjota hyvät vpn-yhteydet ihan vakiona. Tyytyväinen etätyöntekijä on kokemukseni mukaan erittäin lojaali yrityksen työntekijä. Etätyöpisteen tarjoava kaupunki tai kahvila voittaa varmasti myös euroissa. Etenkin Hangon kaltaisissa paikoissa, joissa sesongin pidentäminen ja ympärivuotinen toiminta on elinehto monille yrityksille. 
Ja mikä onkaan parempaa, kuin ikkunasta tai kulman takaa aukeava merinäköala, jonka äärelle on vain muutama metri työviikon päätteeksi. 
Kirjoittaja on Hangossa ympärivuotisesti "etäilevä" yrittäjä. 
Lähes viikottain Instagram Storyja Hangosta.