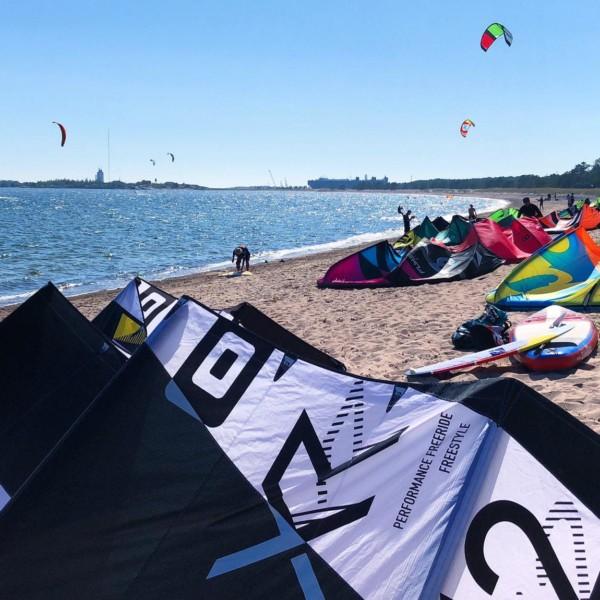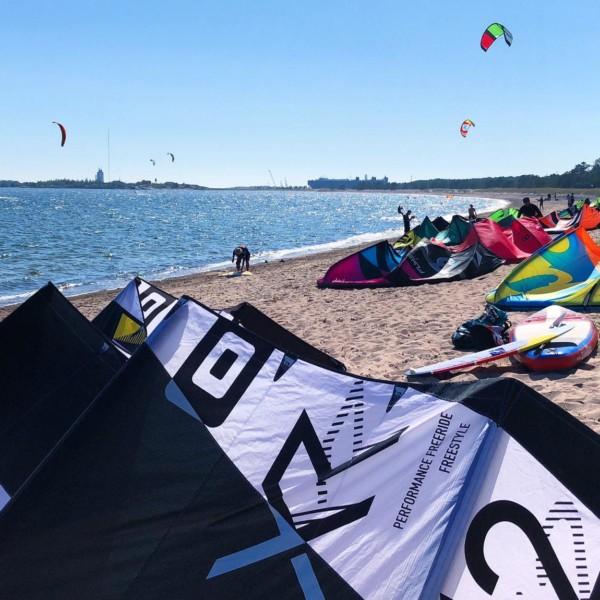 In addition to that, Hanko is situated on a headland, so whatever the direction of the wind, there will always be a beach where you can kitesurf. The distance between the beaches is short so you can easily move between them during the day if the wind direction should change. The wind often blows very evenly but also hard enough due to very few obstacles, like islets for instance. The ocean is open and so is the horizon.
How is the kitesurfing in Hanko?
During the high season there is often a lot of traffic on the beaches. On days when the wind is strong you can see a lot of kiteboarders appearing. When the wind is lighter you see some hopeful kiters sitting on the beach waiting for the wind to increase. The atmosphere and fellowship is great and people are talking, laughing and helping each other out. Kitesurfers have a "hang loose" aura and the "shy Finnish guy" suddenly disappears when he pumps air into the kite and gets his wetsuit on. Don't be afraid to ask for advice from a kiteboarder you meet on the beach. Even during the low season there are lots of surfers on the beaches. When the storms draw in to Hanko in the fall and most people don't want to go outside, many kitesurfers make their way to Hanko to pump their bodies full of adrenalin.
How does it feel when you get out on the water?
– I've been kitesurfing since 2014 and I always feel happy out at sea. You find a kind of serenity when there's only you and the force of nature. It's a feeling that's hard to beat. Many of those who feel it will never stop surfing. It's a very special feeling, when the wind is up to 20 m/s, to pack your car, drive to the beach, pump up your kite and just take off and fly over the waves. Some would say you are crazy, but for a kitesurfer this is the perfect day.